Position title
 Seasonal Trail Care Professional & Project Manager
Reports to
POP Executive director
Status
Seasonal, part-time (Average 20 hr/week from early-April to late-October)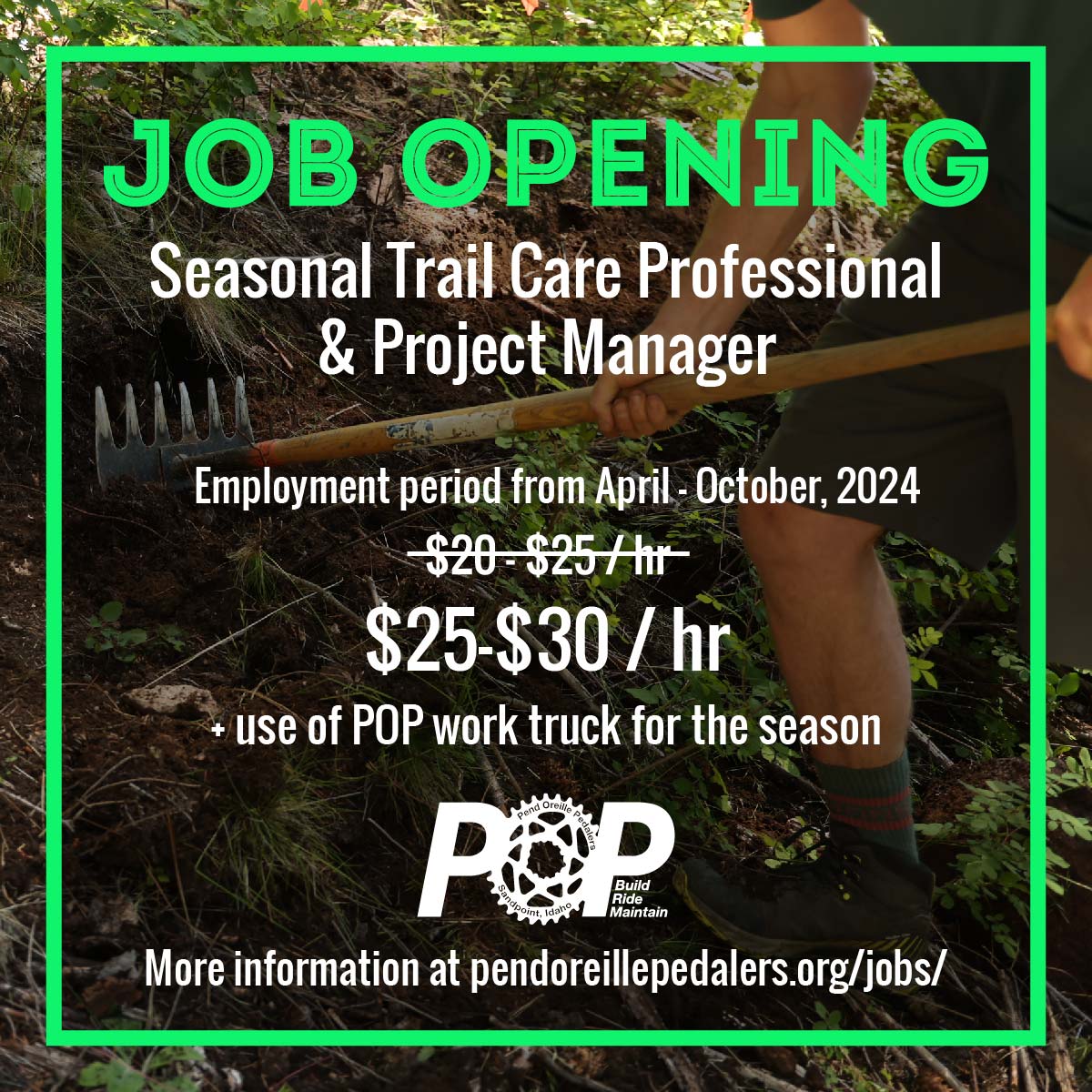 Summary
The Seasonal Trail Care Professional & Project Manager will be responsible for assisting the Executive director and crews of volunteers in performing routine maintenance and repair of trails managed by Pend Oreille Pedalers and act as project manager for professional trail building projects taking place in Sandpoint's Little Sand Creek Watershed.
Project Management responsibilities will require liaising between POP's ED, professional trail builders employed on projects in the Little Sand Creek Watershed, the City of Sandpoint Parks Department, and Schweitzer Mountain Properties, for whom which POP is managing a trail project in 2024. 
The ideal candidate is a self-starter who can work independently, possesses a strong work ethic, has a grasp of social media and strong written and verbal communication skills, and has a passion for trails and outdoor recreation.
NOTE: Candidates who do not already have secure housing in or near Sandpoint must consider housing options before applying for this job. A studio condo on Schweitzer may be available to rent by the successful applicant at a competitive rate, but it is recommended that housing be previously secured or opportunities for housing researched before applying for this job. As a part-time position, the ideal candidate will have other income sources to support their housing during the six-month employment period.
Key Responsibilities
Project management: work with POP's executive director to

oversee construction and manage the various requirements as set forth by the City of Sandpoint and other watershed agencies and landowner partners during seasonal construction activities in the Little Sand Creek Watershed.

Maintaining and repairing trails in the Syringa and Little Sand Creek Watershed trail systems, including but not limited to trail tread work, brushing, drainage work, and general trail upkeep.

Follow established maintenance protocols and guidelines, ensuring that all work is performed safely and efficiently.

Operate hand tools, power tools, and equipment such as chainsaws, brush cutters, and, possibly, mini-excavators.

Ensure that all tools and equipment are maintained in good working condition, reporting any issues or necessary repairs to the Executive director.

Work independently towards or coordinate POP volunteer crews towards the construction of new trails and trail features, as needed.

Communicate effectively with the Executive director and other crew members regarding project status, concerns, and suggestions.

Adhere to all organizational policies, procedures, and safety protocols.

Conduct annual spring trail work assessments and develop trail maintenance plans for land managers (City, USFS, private landowners, etc).

Join respective landowners on trail inspections (prior to opening new trail segments or newly constructed features), reporting to the Executive director following inspections.

Support Executive director in the organization and leadership of weekly volunteer trail work parties, as needed.
Additional possible responsibilities
Post regular updates to POP social media: Info about upcoming trail work parties, photos of volunteers in action, trail condition updates, trail closures or new trail openings.

Act as liaison between POP ED and land managers on maintenance issues and plans for new trail development.

Provide summary of work/activity completed to POP ED weekly for tracking purposes.
Qualifications
High School diploma or equivalent

Prior experience in trail maintenance, construction, or other trail-related project management activities required

Prior experience working on projects on public land and with public land management agencies preferred

Ability to work effectively in a team environment and independently

Strong written and verbal communication skills

Ability to work outdoors in various weather conditions, including exposure to heat, cold, and precipitation

Ability to lift and carry up to 50 pounds, and hike and work on steep, uneven terrain for extended periods of time

First aid certification required (training can be paid for by POP)

Chainsaw certification from USFS or equivalent (training can be arranged by POP)

Valid driver's license: The POP work truck will be provided for the successful applicant's use for work-related activities for the duration of employment. 

Ability to work flexible hours, including weekends and holidays, as needed

Advanced mountain biking skills are a plus
Work schedule
April 8th - October 25th, 2024. The position allows for three weeks of unpaid leave within this 31-week window, for a total of 28 paid weeks of work. 
This is a seasonal part-time position. While work will average out to 20 hours per week, the ideal candidate will have a flexible schedule that will allow some weeks to include fewer than 20 hours and some to include more than 20 hours. (we see less maintenance taking place during the hottest weeks of July and August, and much more in the cooler weeks in April - June and September - October).
Compensation
$25 - $30/hour, or $500 - $600 per week, depending on candidate's qualifications.*
*Wage is commensurate with jobs with similar responsibilities offered at the local government level.
To Apply
Please submit a resume, cover letter, and three professional references to [email protected]
Applications will be reviewed on a rolling basis until the position is filled. Pend Oreille Pedalers is an equal opportunity employer and encourages all qualified individuals to apply.