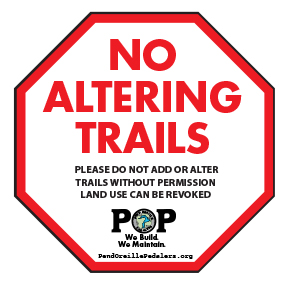 Property use is a privilege not a right please make sure we retain this trail privilege. The privilege has been granted by various private landowners, public landowners, government agencies and land trusts. Show respect for all trail users and property.  Do not add trails, alter trails, or add features to trails without written permission from the POP.  If you have a great idea please let us know we'll see if we can make it happen. Riding and trail use should be fun for all. Contact POP.
The POP Trails are user maintained trails.  Everyone maintains the trail, it is a volunteer effort, do not cut switchbacks create new trails, or add features this may cause excessive erosion and jeopardize access.  Please avoid muddy conditions.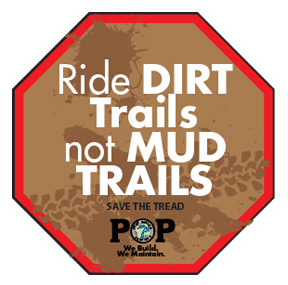 Please preserve the trails.

The Watershed Crest Trail - (Currently In Development)
This trail runs through a mix of city, state, federal, and private lands. These cooperative partners seek to preserve public access, maintain trails, healthy forests, wildlife habitat and water quality on these open lands. Significant Portions of WCT travel through the watershed.  Please respect our water quality and stay on the trail.
Did you know?
It is illegal to roll on Sandpoint's downtown urban core sidewalks...bikes, inline skates, skateboards, ripstixs, etc. Please be safe and considerate, dismount.
You are only required to yield at stops if no vehicles are present, but must stop when vehicles are present. It's the state law.
You should ride in the direction of traffic flow ESPECIALLY when in a bike lane.
Ride aware, be predictable and keep everyone safe.