2023 Project overview - City of Sandpoint Mountain Bike Skills Park
Pend Oreille Pedalers has received approval from the City of Sandpoint to fundraise for, plan, design, and build a mountain bike skills park in Travers Park, on a site long identified for an improved bike facility. As Sandpoint's cycling club and trails organization, it is our mission to create places for bicyclists of all ages, abilities, and socioeconomic levels to get outside and enjoy time on their bikes. With the closest dirt trail over a mile away from town, a public bike park within City limits will provide physical, social, and emotional health benefits to thousands of kids and their families, right in their backyard!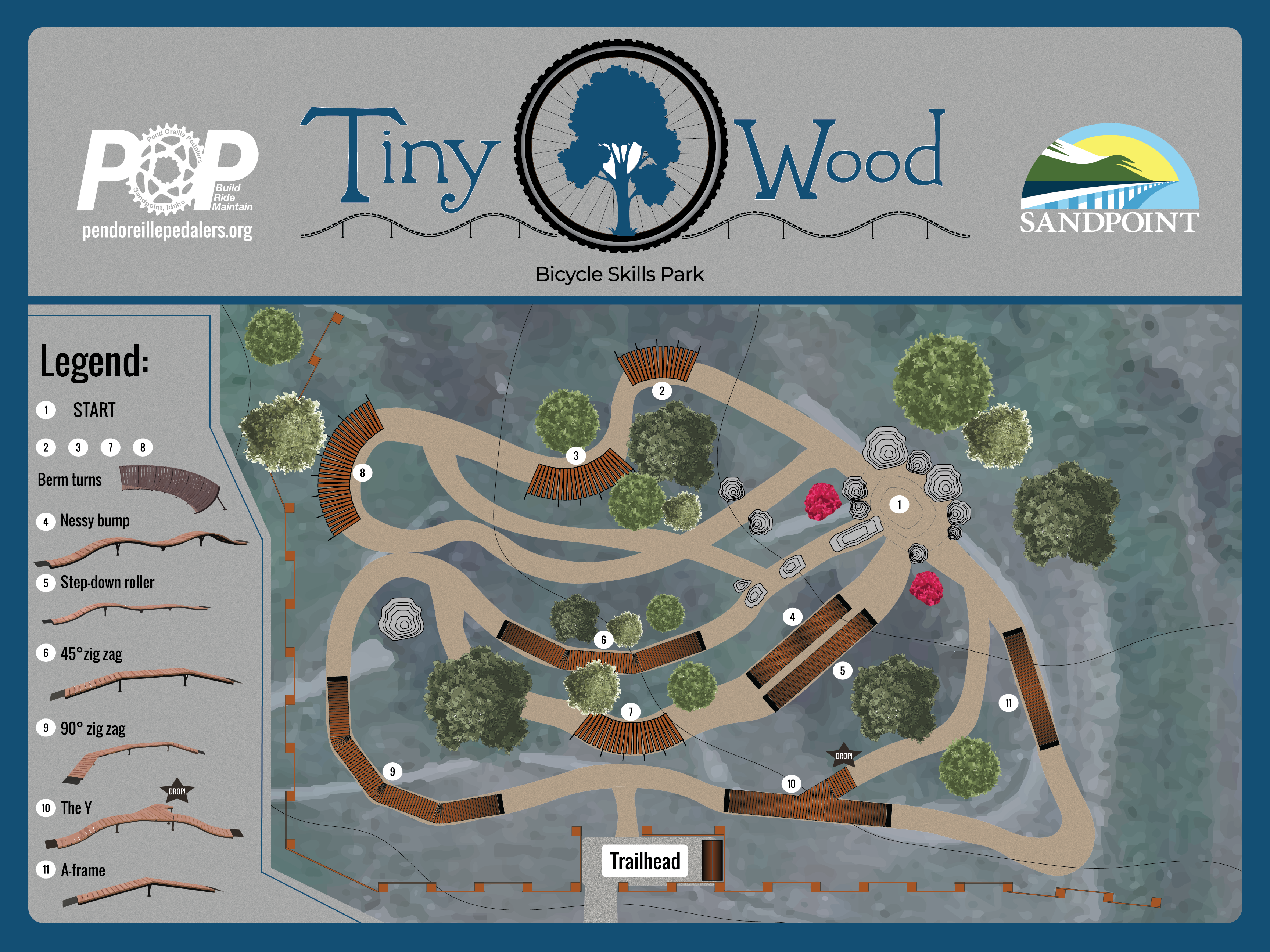 The half acre project site on which the new skills park will be built is currently home to an unmaintained dirt bike track, built years ago by users, without any features beyond some rudimentary dirt rollers. We will completely rebuild the bike park with prefabricated skills features from Progressive Bike Ramps, landscaping, and dirt work, including a dirt trail between the wood features, converting it into a modern mountain bike skills park for all ages and skill levels.
Youth mountain bike programming is already underway in our community. POP operates after-school and summer mountain bike programs for 120+ youth each year. Sandpoint Middle School is offering the Outride grant-supported "Riding for Focus" PE mountain biking curriculum. This project is aimed at providing a venue for existing programs in our community to use for youth mountain bike coaching and instruction, as well as a venue for local riders of all ages to develop mountain biking skills in a fun and challenging course right in the middle of Sandpoint!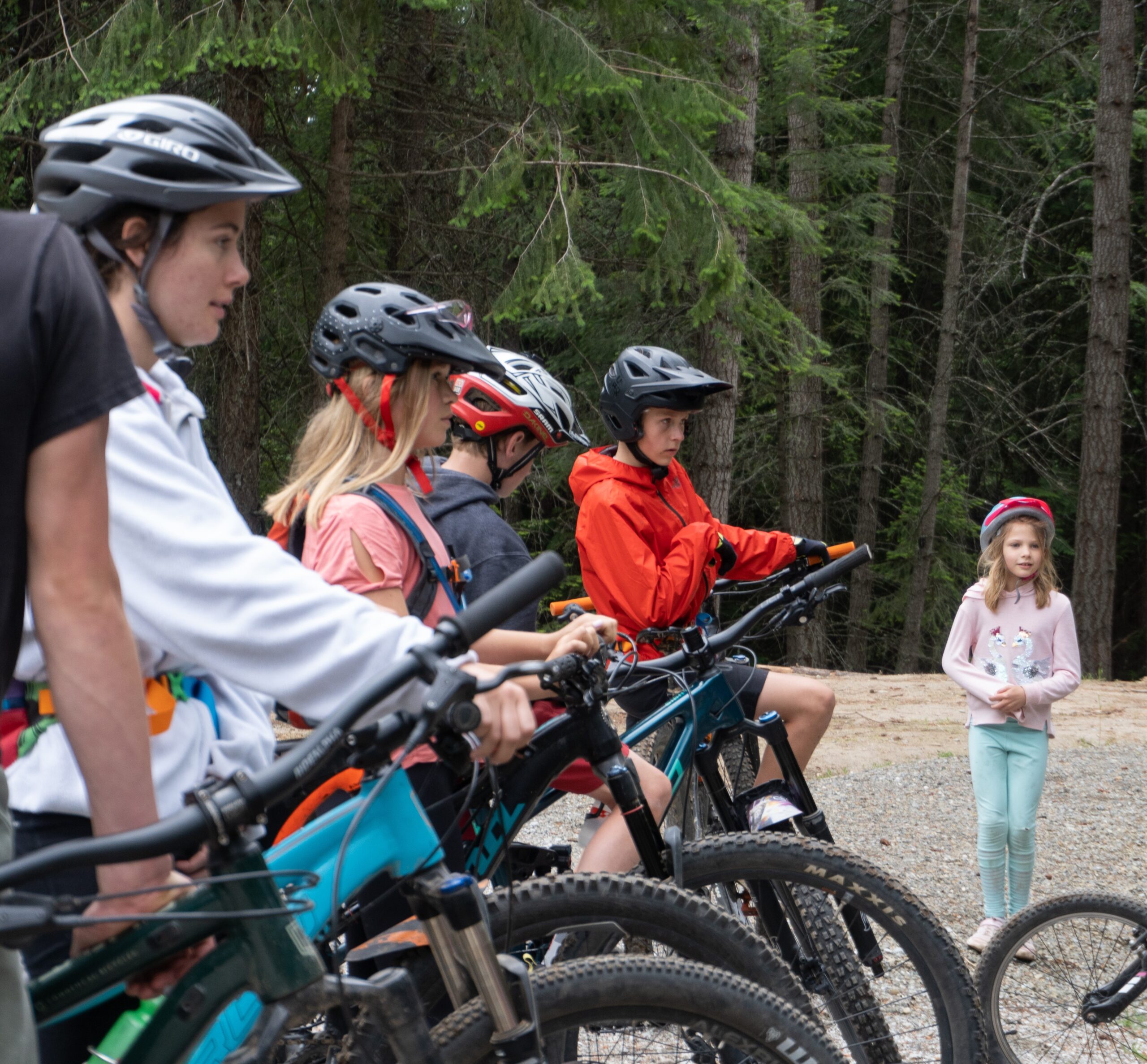 The project is scalable, with outcomes budgeted for between $35,000 and $75,000. Additionally, given the module nature of the ramp features, the park can be added to in the future. Below is a proposed budget for a $65,000 bike park.
Contractor Labor for site prep, grading, and trail construction (2-person crew for 2 weeks) - $8,800
Contractor equipment (mini-ex, plate compactor, and Canycom for two weeks) - $2,200
Skid steer rental (one week) - $850
10 wood features from Progressive Bike Ramps, manufactured, delivered, and installed - $50,000
In-kid labor from POP (including volunteers) - $3,150
Total budget: $65,000
Funding Sources
MTB License Plate grant
 $ 20,000.00
Equinox Grant
 $ 10,000.00
Private donation (Julie Meyer)
 $ 10,000.00
Private donation (Rich Wells)
 $   5,000.00
Private donation (Syringa Cyclery)
 $   6,600.00
Spring Movie night fundraiser (Panida & Sami Ryan)
 $   3,400.00
POP Movie Night fundraiser
 $   2,300.00
Private donation (Matchwood Brewing Shred Sesh)
 $   2,500.00
Online donations
 $   3,540.00
Private donation (lumber from Ambition Strikes)
 $   2,800.00
In-knd donation (Labor from Collaborative Trails)
 $   8,000.00
In-kind donation (skid-steer from KLT)
 $       850.00
POP volunteer labor
 $       363.00
POP general fund
 $   1,169.00
Total
 $ 76,522.00