2024 Trail Project Request For Proposal
Check out our RFP for the fully designed and flagged 2024 Lower Basin Black DH trail.
Proposals due December 4th
Contract awarded December 11th
Pre-construction period through April
Construction period April 28th - July 12th
Job Opening - Trail Care Professional
POP is hiring a seasonal trail care professional and project manager in 2024. Read the full job description and learn how to apply here.
Over the winter the POP board of director and executive director convened to develop a 5-year strategic plan for the organization. The purpose of the plan is to lay out the club's goals and objectives and strategies for achieving them, while also exploring the risks, means of assessment, and succession plan so the organization can remain strong in the face of foreseen and unforeseen challenges.
Have a look at our strategic plan here.
Registration for all of POP's 2023 youth programs opened on April 1st. Once again we are offering five weeks of twice-weekly after-school clinics based in Pine Street Woods. Parents will have a Monday/Wednesday or Tuesday/Thursday option to choose from.
In addition, we're offering our summer camps over the same two week period as last year, right at the end of the local school district's summer break (August 21st - 25th and 28th - Sep. 1st).
Clinics return for five more weeks in the fall.
More information about our youth programs is available here.
Road Ride Routes and Calendar
The road riding scene is alive and well in Sandpoint! There's a new ad hoc group of road cyclists that is using Heylo to coordinate and communicate about ride. All are invited to join!
We've recently added a Road and Gravel Routes page to our website. Check it out, and let us know if you have routes you think we should add to the page!
Have you heard about the Idaho Panhandle Gravel Series? Syringa Cyclery is organizing three gravel road events this year, with POP as a co-organizer or sponsor of all three. More information at Syringa Cyclery's website under "Events/rides."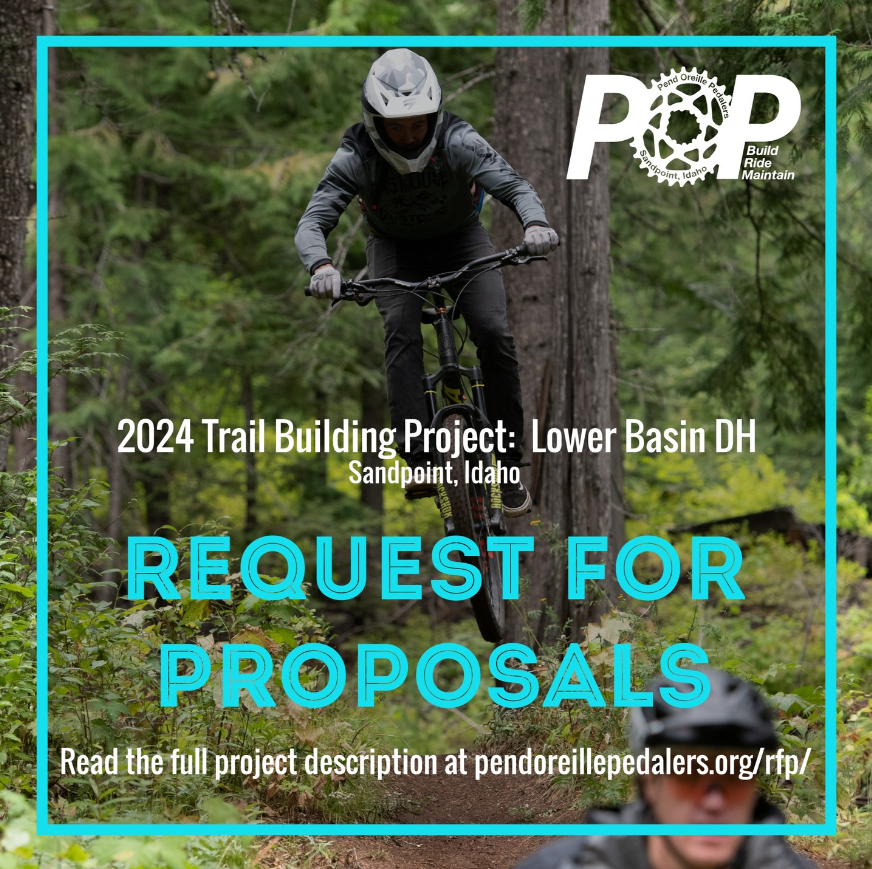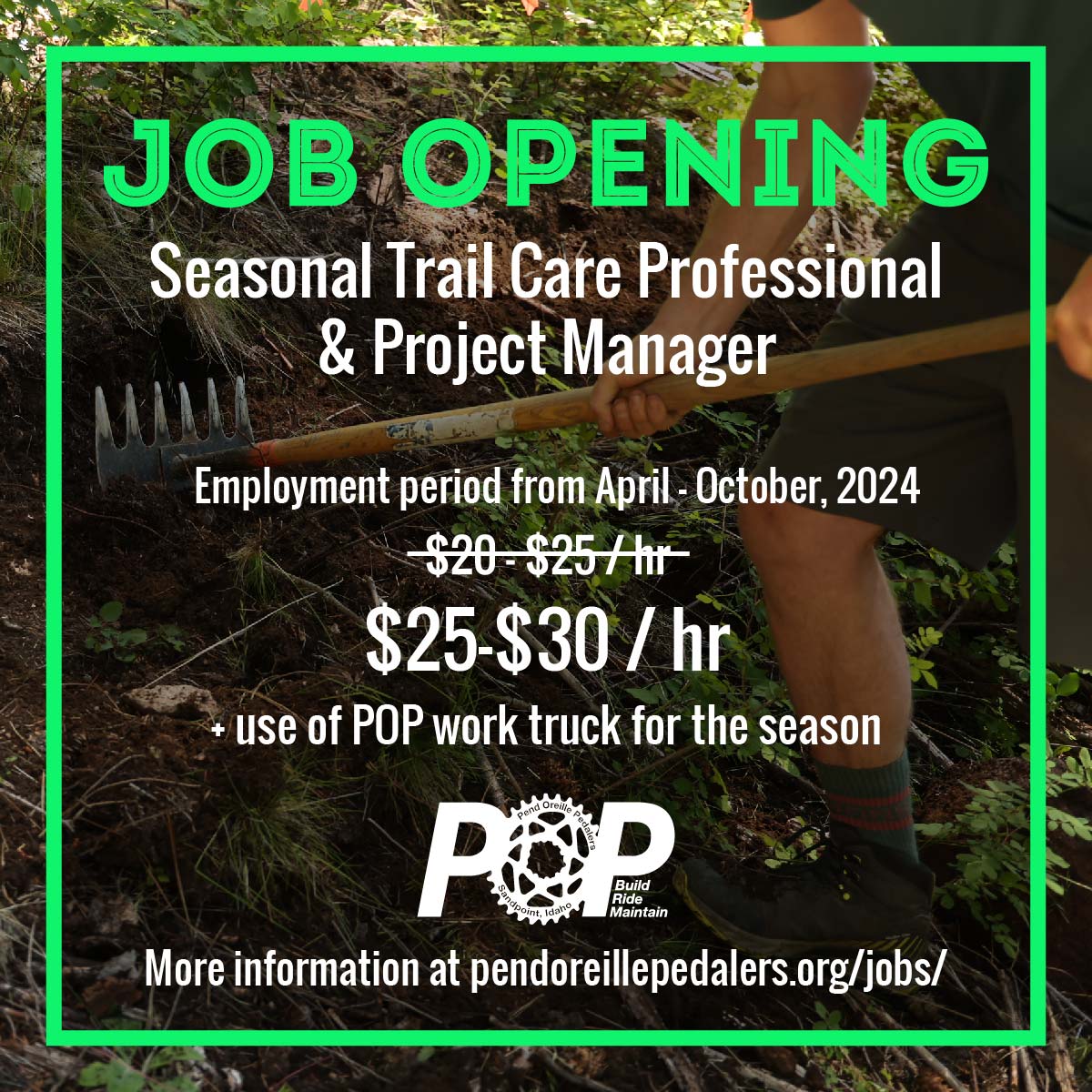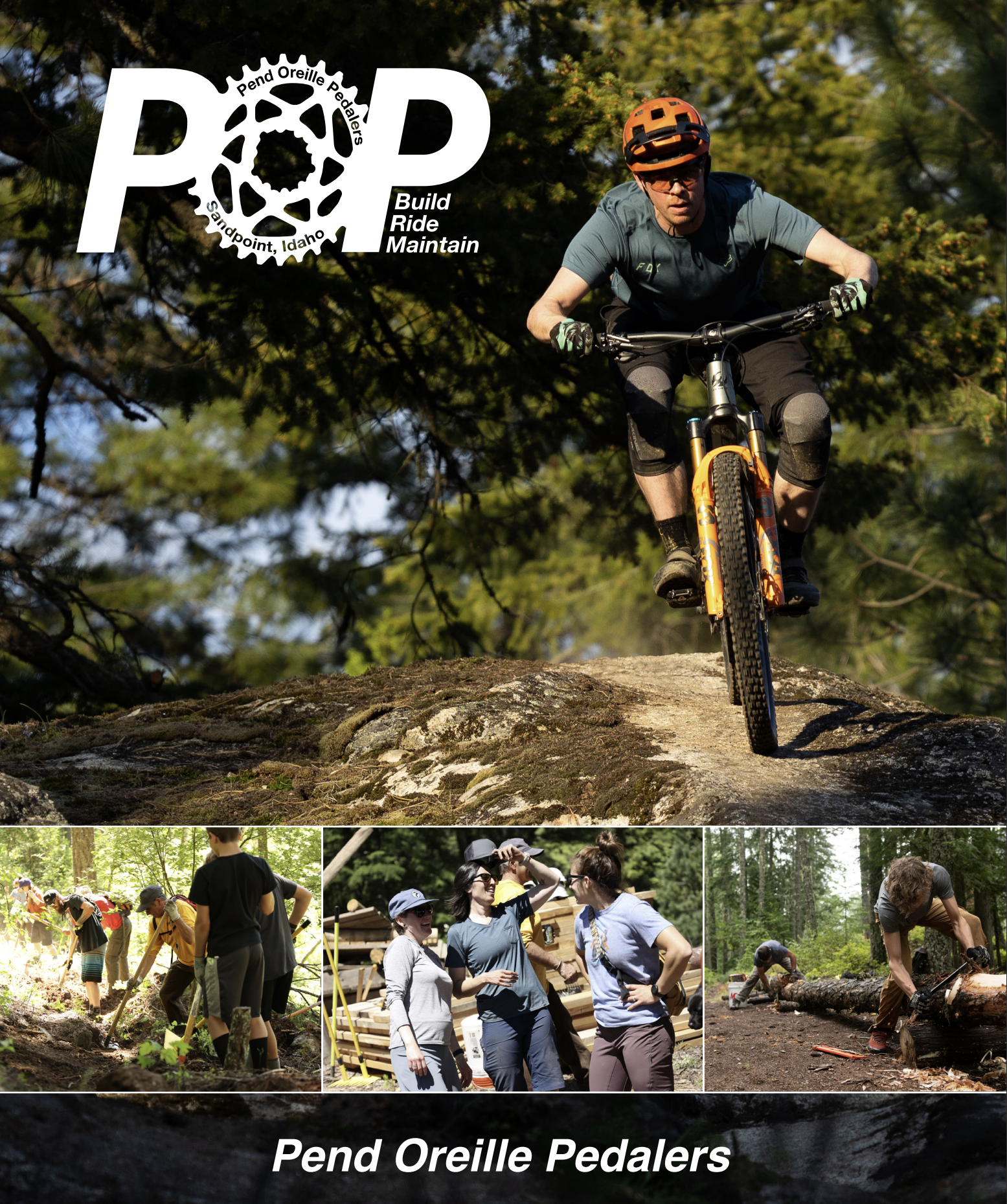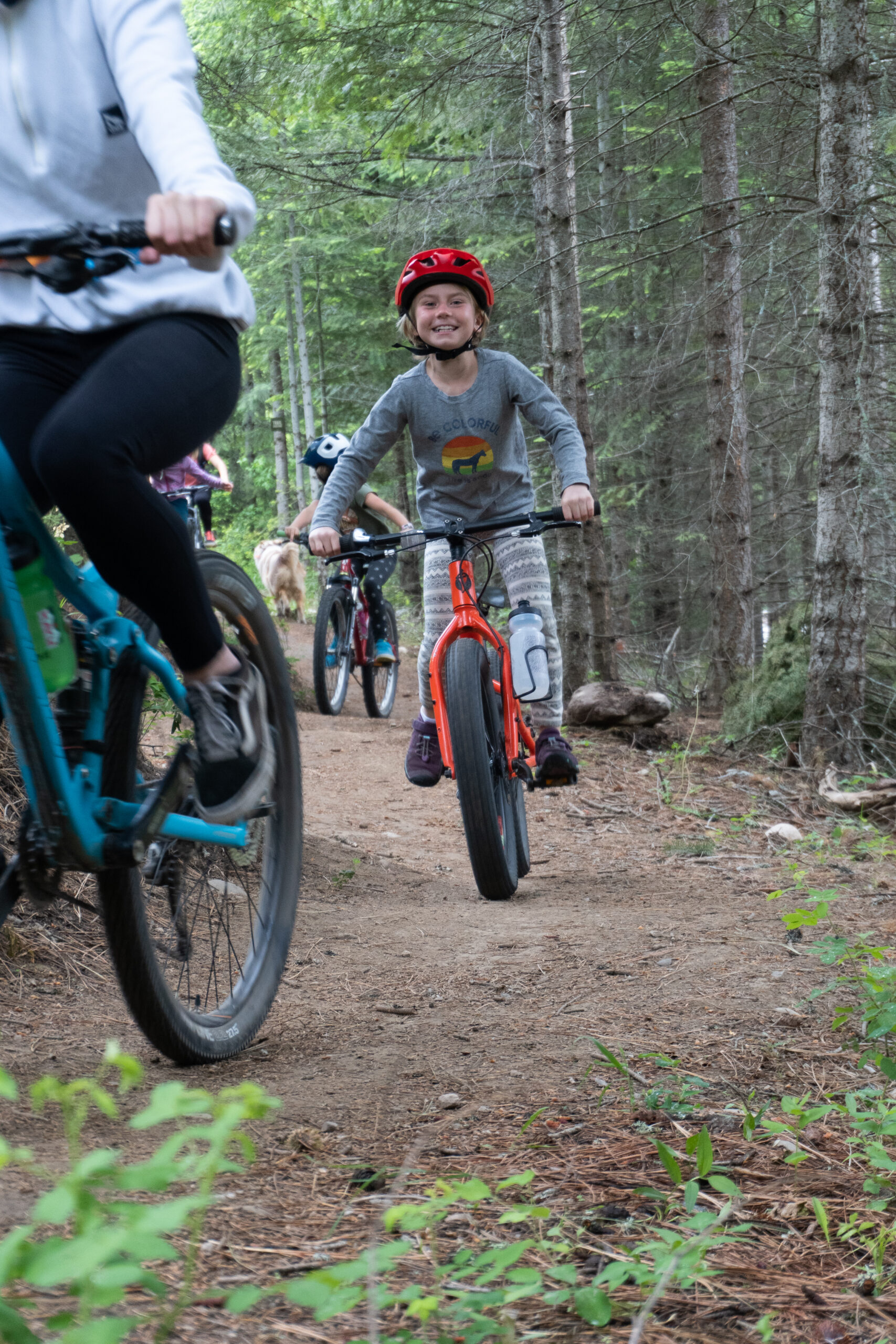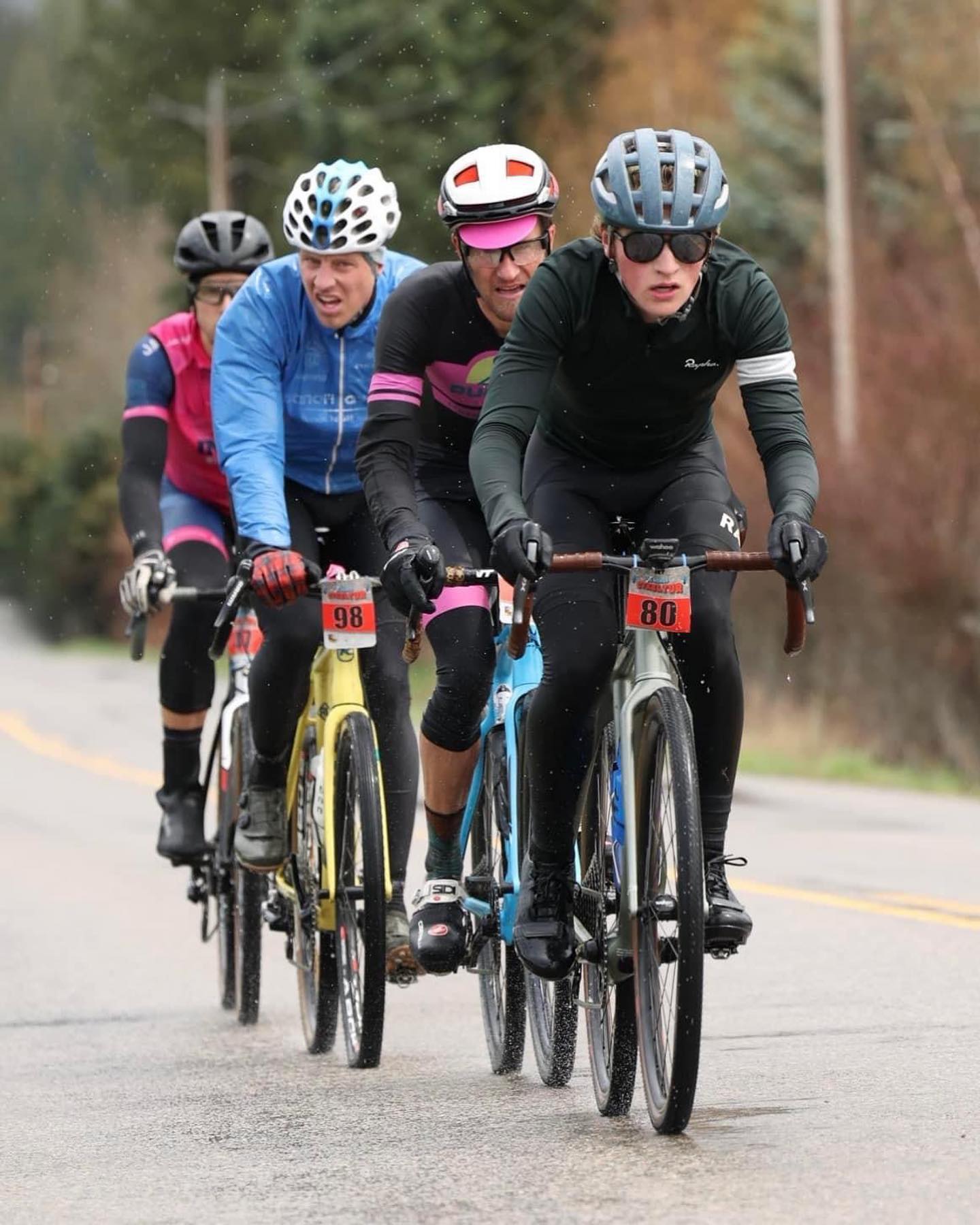 Fresh Merch!
Check out our selection of awesome merchandise for sale at Outdoor Experience on First Ave in Sandpoint! We've got four styles of t-shirts, tank tops, 5-panel hats, trucker hats, buffs, four styles of socks, stickers, and pint glasses to choose from! All proceeds go back to supporting trails and bicycle advocacy in Sandpoint! You can pay for your items online and pick up in person!   MERCH SHOP - CLICK HERE!
Club meetings
Our monthly club meetings are on the 2nd Wednesdays of the month through the end of October! Join us at Matchwood Brewing from 5:30 to 7:00 pm for a conversation about projects, programs, and activities in the world of trails and cycling over beers.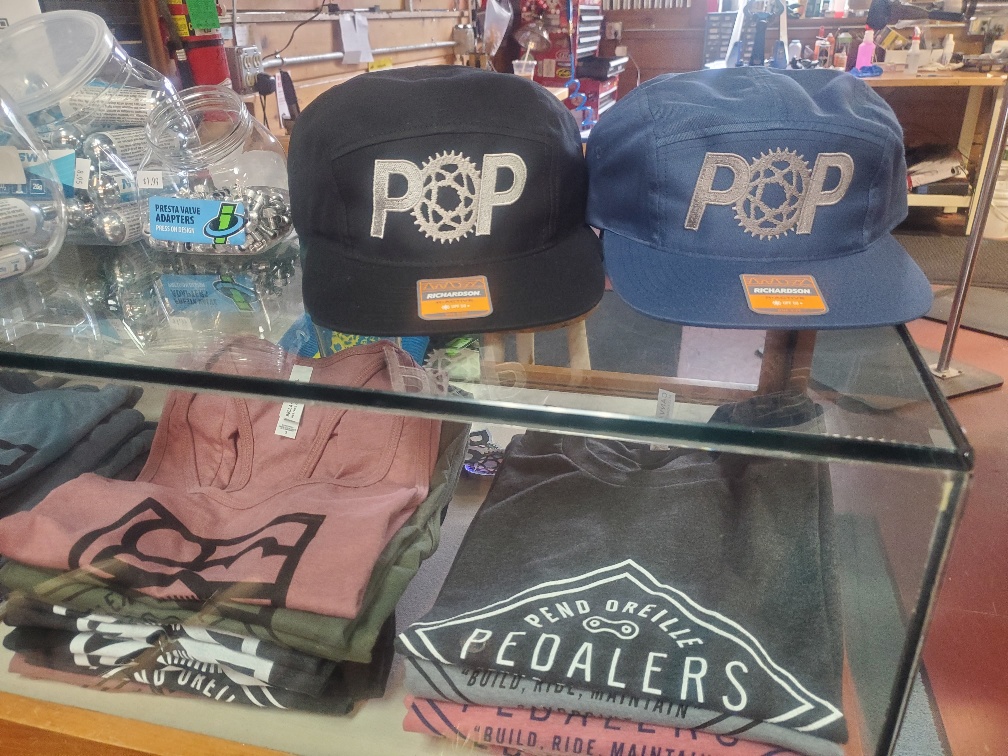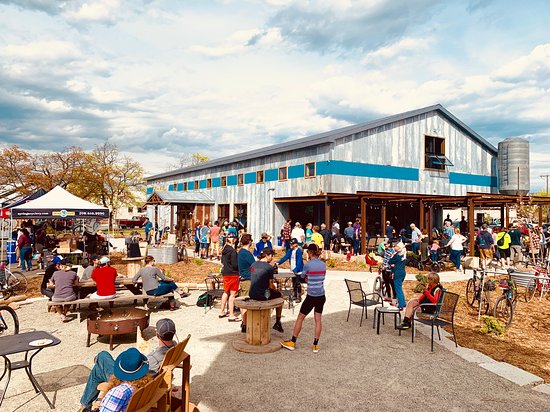 Who we are
Pend Oreille Pedalers was established in 2004 as a bicycle club and in 2008 incorporated as a non-profit 501c3. Our vision is to build an interconnected system of bike trails for riders of varying ability levels for the benefit of Sandpoint and surrounding areas.
Mission
Maintain & Protect

existing mountain bike trails & cycling routes 

Expand

opportunities for mountain biking & cycling 

Advocate

for the interests of mountain bikers with land managers

Build & Ride trails

with others who share a passion for riding bikes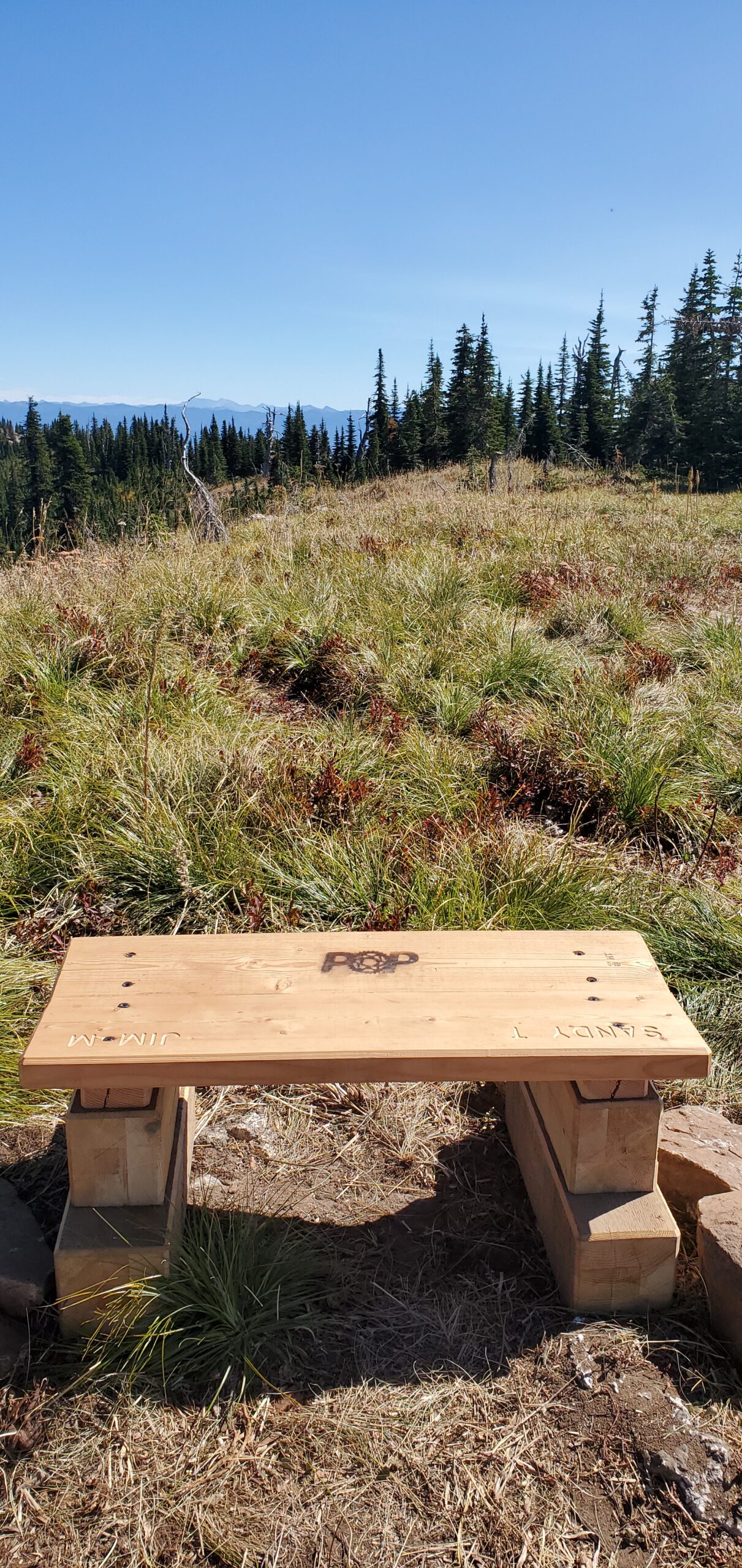 How you can help
Our ability to fulfill our mission and work towards our vision depends on community support. There are many ways you can help:
Join or donate: Building and maintaining great trails costs money. Your annually renewed membership and one time donations are essential to our success.
Volunteer: We have a staff of one part-time director, which means nearly all our labor is volunteer. Trail maintenance takes place year round, on dirt and snow. Check out our calendar for upcoming volunteer opportunities.
Get involved: We depend on a volunteer board of directors and active club members, with monthly club meetings from March through November, and weekly group rides from spring through fall.
Sponsor: If you're a local business who sees value in trails and recreation, consider becoming a corporate member. More information coming soon.