Guidelines for Trail Use during the COVID 19 Outbreak
The State of Idaho has issued a "stay at home" order for the entire state. The City of Sandpoint has closed public playgrounds. Movie theaters, most shopping venues, cafes, bars, and restaurants are closed. What to do in these challenging times of "social distancing?"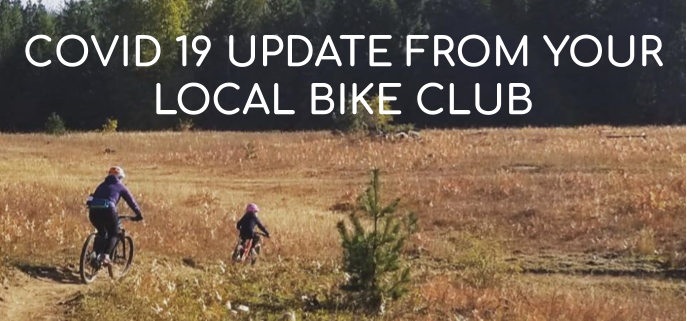 Many Sandpoint residents have turned to our local trails as an escape from their homes in the last few weeks, increasing pressure on our local outdoor recreation resources. As the stewards of the Syringa / Sherwood Forest trail network on the edge of town, the Pend Oreille Pedalers wish to offer some guidance on both safe and respectful trail usage during this time of social distancing.
Hike or ride alone or with immediate family only. The stay at home order ultimately is about limiting interactions with people who are not in your household. This rule should apply to outdoor recreation as well.
If you feel sick, stay home. If you are exhibiting any symptoms of COVID 19, stay off the trails. This includes cough, fever, body aches, loss of taste or smell, and more. For a full list of symptoms click here.
Travel alone to trail heads. If you must join a friend for a ride, drive yourself to the trail to avoid close physical contact.
Keep a safe distance from others. If riding with a friend, maintain at least 6 feet of separation. When passing someone on a trail, step off your bike and step well off the trail to let them pass.
Take it easy, and ride within your ability. More than ever it is the time to ride within your ability level. The last thing our healthcare system needs is injured mountain bikers taking up hospital beds!
Do not congregate at trail head before or after your hike/bike. All social gatherings are discouraged, even casual get togethers before or after an ride. When you're done with your ride, go home.
Staying active in the outdoors is as important now as ever. However, it must be done responsibly, like everything else in our lives. Mountain biking is not, for now at least, a social activity. Please respect these guidelines and help keep our local trails a safe, enjoyable place to relieve some of the stress we all feel in these uncertain times!
As for what the Pend Oreille Pedalers are doing to keep everyone safe, we have cancelled our spring club meetings and group rides. Trail maintenance will continue, as it is our responsibility to make sure the local trails are kept in a safe and usable order. However, large trail work parties will be cancelled until the stay-at-home order is lifted. If you are a club member and want to help out with trail maintenance, please reach out to the club's executive director to see how you can get involved. He can be contacted at [email protected].