The Basin Trails
POP helps build and maintain trails in the Little Sand Creek Basin in partnership with the Selkirk Recreation District and the City of Sandpoint. These trails can be linked with the Schweitzer Mountain Resort XC and lift-accessed trails for a combined network of nearly 25 miles of singletrack with 3,840 vertical feet of elevation from Schweitzer's Skyhouse to the 2nd switchback trailhead.
POP has plans to build out five more miles of trail in the lower basin (below the roundabout), and another 15-20 miles of trail along the Watershed Crest (beyond Uleda Point) and in the rest of the watershed (shaded area on the map).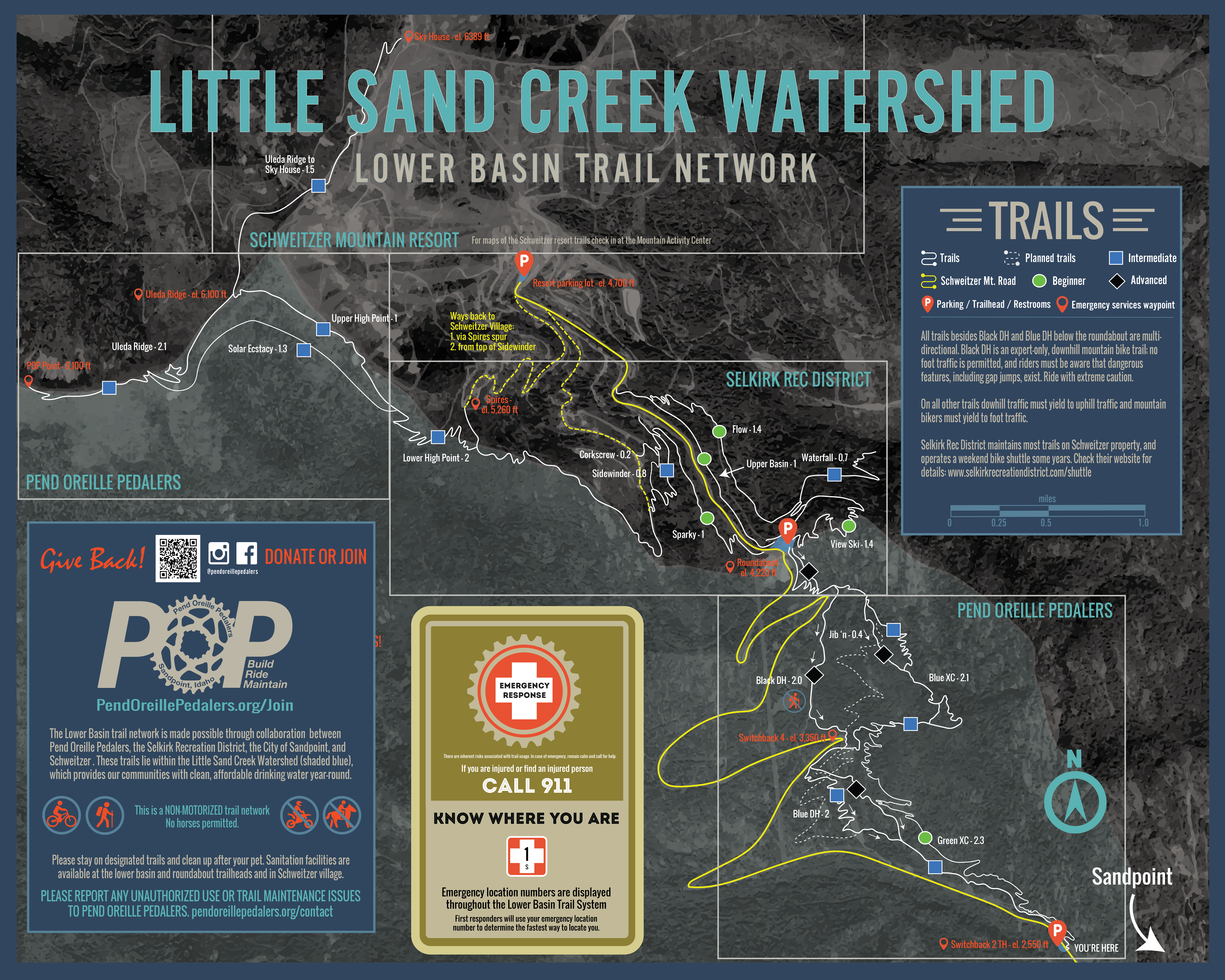 The Syringa Trails
POP has built nearly all the trails in the local Syringa Trail network, which can be accessed from trailheads on West Pine Street and in Pine Street Woods (there are some unofficial trail access points not indicated on our map as well.) The club was originally formed in 2004 to build trails in Sherwood Forest, one of the three properties that make up the Syringa system. Today we have agreements with three different private landowners and two HOAs to build and maintain singletrack in the Syringa trail system. In 2020 and 2021 miles of new trail will be developed, much of it built by POP volunteers and using POP funds.
Access to our "town trails" is a privilege and not a right. It is only by the generosity of private landowners that we are able to build and ride trails so close to town. Please respect the land; leave no trace, ride within your limits, yield to hikers, and know where you are at all times. Maps are located at strategic points within the network to help you plan your ride and find your way around.
VTT 2023 Trailhead Map - download full resolution map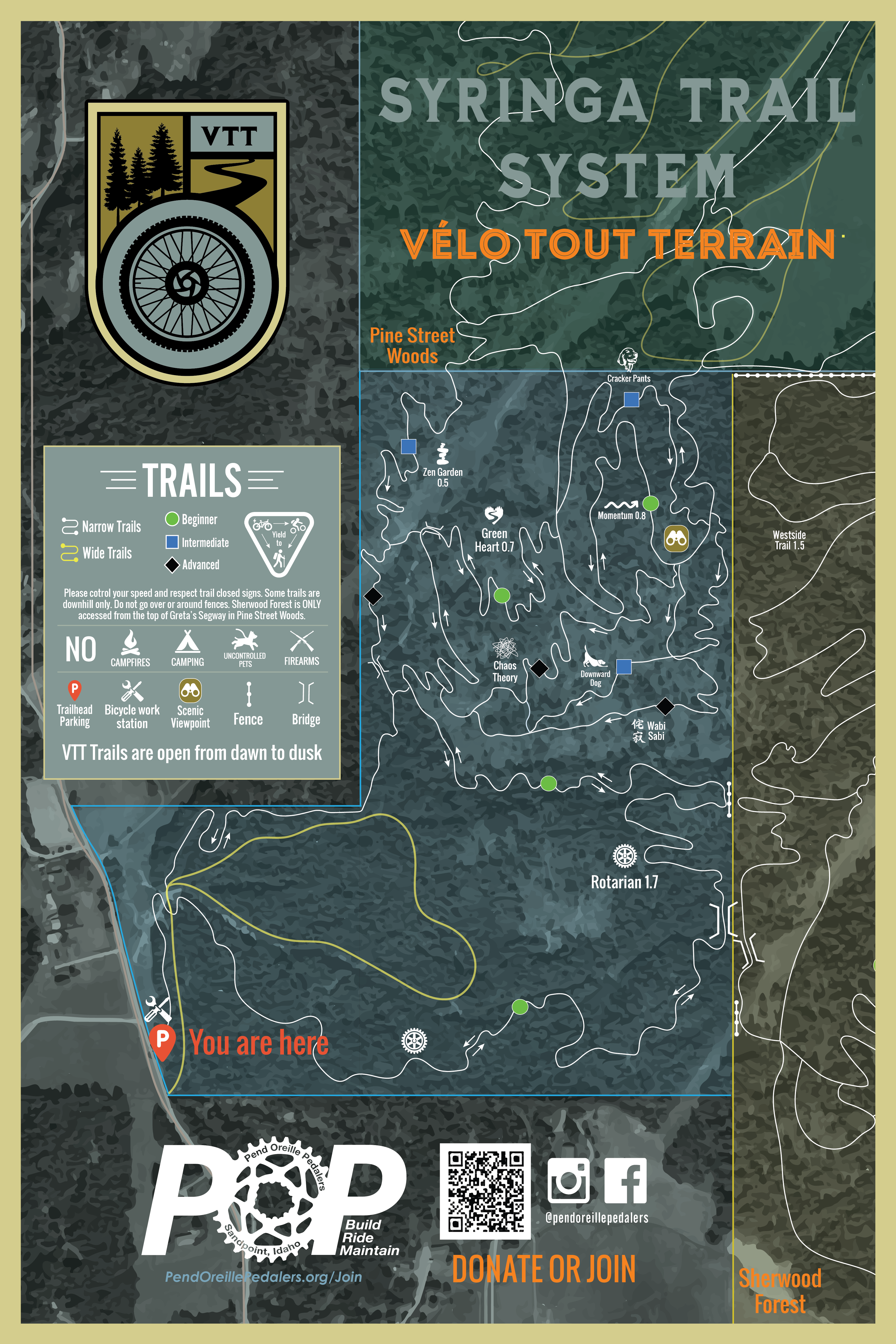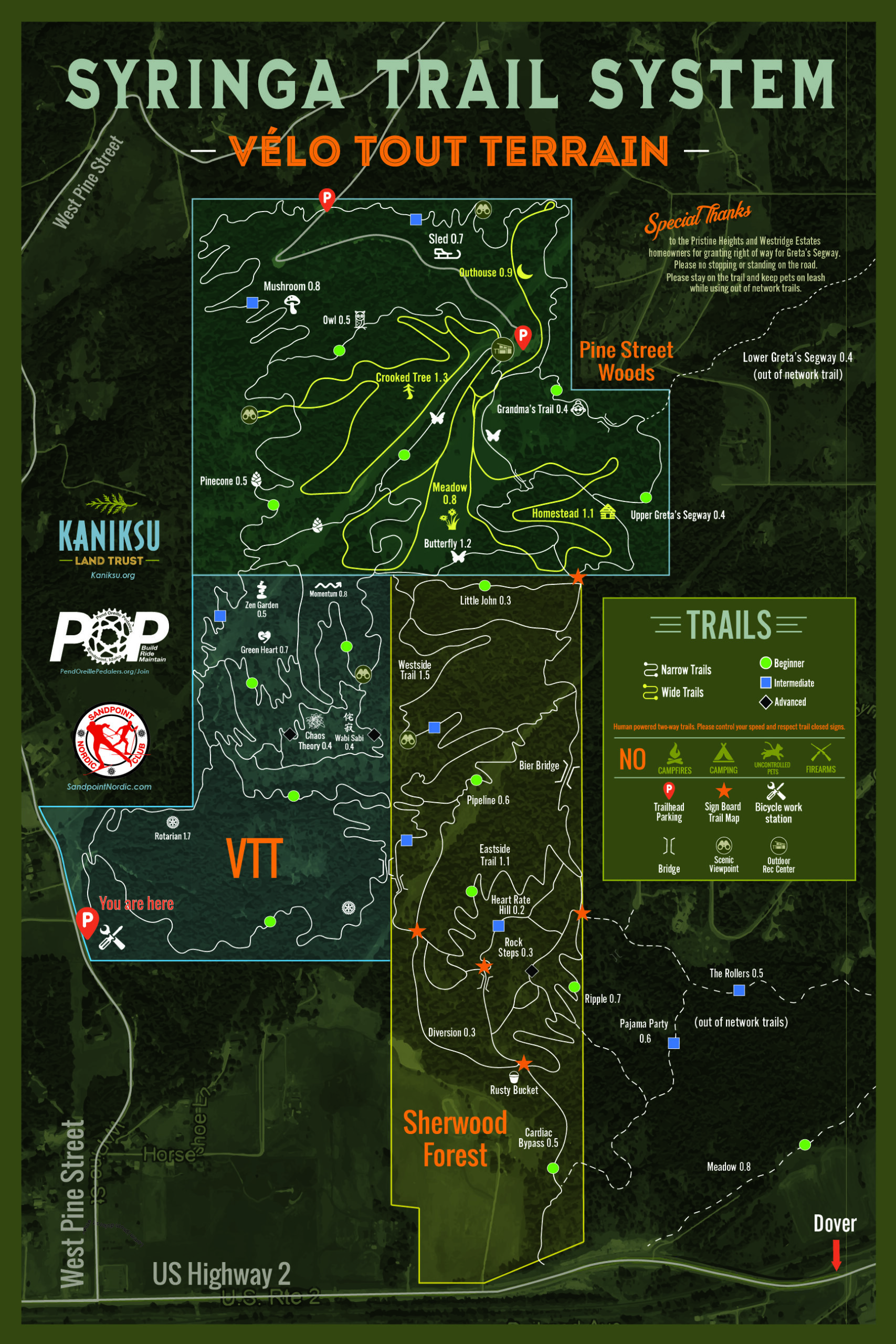 Pine Street Woods winter fat biking
POP has partnered with Kaniksu Land Trust and Sandpoint Nordic Club to maintain around 4 miles of narrow trails for winter fat biking. Our network of groomed trails consists of four overlapping loops, all starting from the PSW parking lot. We also groom a "dog walking trail" from the lower parking lot, to encourage those who like to get their furry friends out for a winter stroll to avoid the drive up the harrowing road and enjoy a quick loop from the lower parking lot.
Grooming updates will be posted regularly once the snow starts to pile up. Check our grooming page for the latest information about which loops have been freshly groomed!