Crosstoberfest – 10.29.2022 @Hickey Farms
Sandpoint's beloved Crosstoberfest is BACK for 2022, with Syringa Cyclery and Pend Oreille Pedalers once again partnering with Hickey Farms to provide a day of fun and competition for riders ages 5 and up!
The 360 acre Hickey Farm provides the perfect venue for cyclocross. But don't worry; if you don't have a CX bike you can still participate this fun day of races! There are categories for several cycling disciplines, and any bike can be ridden in any category: mountain bikes, singlespeeds, and even fat bikers are welcome to participate!

When?
This year's Sandpoint Cyclocross races will take place over one day, with category races beginning at 9 am on Saturday, October 29th and races carrying on until 4:30 pm. After the last race ends we'll have our final awards ceremony and an end-of-season POP member awards party.
Where?
Pend Oreille Pedalers is partnering with Syringa Cyclery and Hickey Farms, hosts of the beloved Harvest Festival in Selle Valley, for this year's event.
Who?
The one-day event will include races for riders of all ages and abilities with almost any kind of bicycle! These include:
9:30 am – Kids race for children 9 and under on a short course
10:30 am – Junior boys & girls (9-14 and 15-18)
11:25 am – Men & Women Masters (40+ / 50+ / 60+)
12:40 pm – Men Pro Categories 1 & 2 and Men Category 3
1:55 pm – Women Pro Categories 1, 2, and 3 / Women Cat 4 & 5, Singlespeed Men / Men Clydesdale (>200 lbs)
3:25 pm – Men Categories 4 & 5, Singlespeed Women, Fatbike Men & Women
More info:
Food and beverages will be available for purchase on sight. This is a family-friendly event piggybacking on the Harvest Festival that will have been running the whole month of October. The Hickey and Holt families were generous enough to open for this one last Saturday to provide us a venue for the races!
POP End of season party and awards: 3:30 – 5:30 pm
The last race starts at 3:25 pm. We invite all POP members and sponsors to join us at this time to celebrate the end of a fantastic season of cycling and trail work with our end of year party and awards ceremony! We'll be recognizing our amazing sponsors and a few member volunteers who went above and beyond in 2021 to support POP's mission to build and maintain world class trails for the community.
Registration:
Registration open Saturday, September 24th, 2022.
Kids race (under 9 years of age) is free; however, registration and parental signature on waiver is required.
Race fees for one race are $25 for juniors and $35 for all other categories (except kids) through October 21st.  Starting October 22nd fees increase by $10.
The fee for additional races is $15.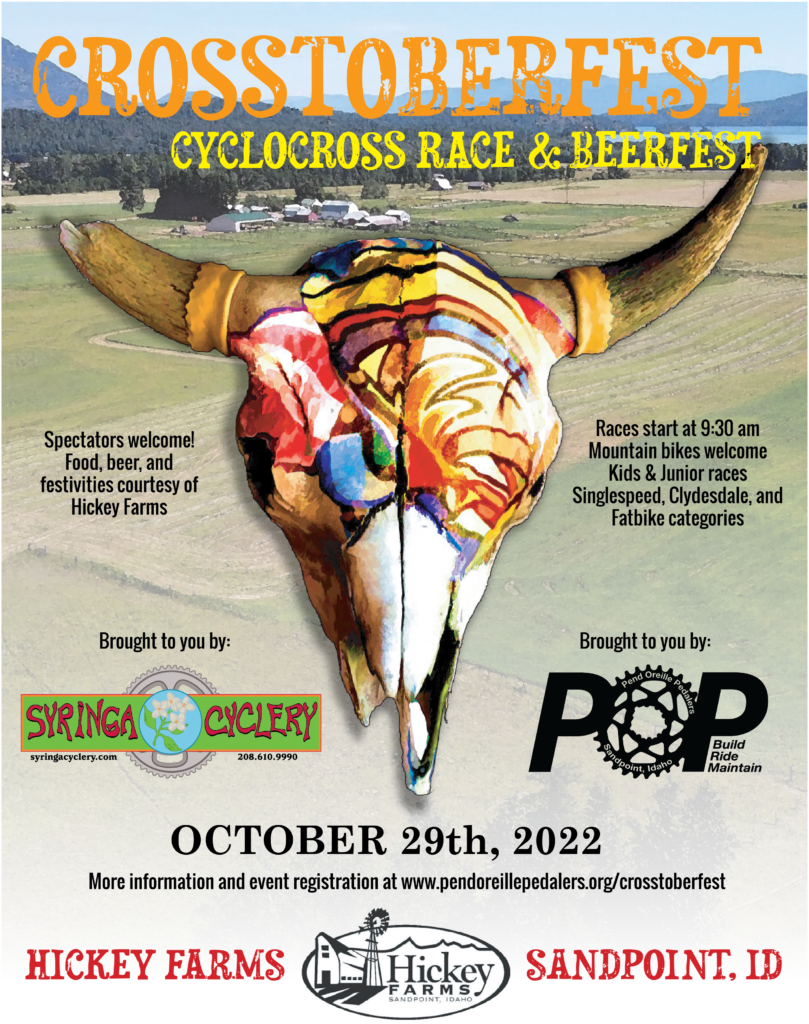 Rules
Bicycles/Equipment
Generally, the bicycle of choice shall be a cyclocross or gravel bike.
Mountain bikes are permitted; however, handlebars with bar ends are not allowed.
Only single speed bicycles are allowed in the single speed categories.
Only Fat bikes with tires 3.8 inches wide or larger are allowed in the fat bike races.
No eBikes or motorized bicycles are allowed in any race.
All bikes shall have brakes for front and rear wheels.
Equipment Pit
The equipment pit is the only part of the course where riders can change wheels or bicycles. No assistance shall be given outside the pit area.
Riders may place a spare bike, wheels, and tools in the pit area.
The pit shall be on a part of the course where different course segments pass sufficiently close to each other to allow entry from two separate sections of the course.
The pit shall have an entry and exit for each adjacent segment of the course. Riders shall enter and exit accordingly.
The equipment pit shall be sign-posted and marked at the beginning and the end of where the course is divided between the race and pit lanes.
A rider passing the pit entrance and continuing beyond the pit exit may not enter that pit, but must continue around the course to the next pit access point. A rider not passing the pit exit, may enter that pit after dismounting and walking backwards on the course to the pit entrance.
Race Format
Riders shall assemble 10 minutes before the start of each race.
The start of each race category group within a single race will be started 15 to 30 seconds apart at the starter's discretion.
Race Duration

Kids Race: approximately 15 minutes or a number of laps determined on race day by organizers

Masters, Cat 4 and 5, Single speed, Fat Bike, Clydesdale: 45 minutes

Laps: the number of laps to be ridden shall be determined on the basis of the time of the first rider to complete 2 full laps. From the 3rd lap on, the laps to go shall be displayed at the finish line
Lapped riders will not be pulled off the course, but will finish on same lap with the leaders and results will indicate number of laps back.
Riders who abandon the race will be listed as DNF in the results and should inform timing officials that they have abandoned.
Number Plates/Timing/Results
Each rider will be provided a bicycle handlebar-mounted number plate with an electronic chip. All riders shall mount the number plate on the front of the bicycle handlebars.
Timing and lap counts will be conducted electronically and results will be posted as they become available after each race.
Number plates shall be returned to organizers at the end of the event.