Fat bikers, get ready!
Pend Oreille Pedalers are once again hosting the region's first ever endurance fat bike race on February 19th, 2022 in Pine Street Woods, Sandpoint, Idaho. Registration will open at 6:00 am on Friday, January 7th. Space is limited, so register early!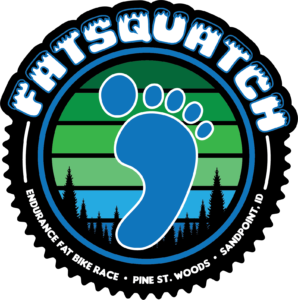 Race format
The race will take place from noon to 6 pm, with lights required for the last 90 minutes of the race. The rider or team who completes the most laps before 6 pm wins. Prizes will be awarded in three categories:
Solo men
Solo women
Teams of two (men/women/mixed)
The top three finishers in each category will receive awards.
Other rules and important information:
Leman's style start with an initial loop on a groomed wide trail to spread riders out
Riders must start their final lap before 6 pm. Any competitor crossing the finish line from 6 onward is done with the race
Racers must be self-sufficient on the trail - no mechanical assistance provided, so bring your own tools/spare tubes/etc
No e-bikes allowed
Fat bikes with 3.8" or wider tires only
Race will go forward in all weather and conditions. Dress and plan accordingly
Riders must arrive at venue with a charged bike light or helmet light. No charging will be available on site (lights are only needed for the last 90 minutes of the race)
The venue
Pine Street Woods, which lies just two miles west of downtown, is Sandpoint, Idaho's community forest. Owned by Kaniksu Land Trust, the 180 acre forest and its central meadow, along with the 100 acre parcel to the south, are home to Pend Oreille Pedalers' winter narrow trail network, which consists of 4.7 miles of groomed trails maintained for fat bikers, snowshoers, hikers, and runners. The race course circles the perimeter of our winter trail network, covering 2.6 miles with about 400 feet of elevation gain and loss.
The trails will be groomed to perfection in the days leading up to the race with a SnowDog singletrack grooming machine; maintenance will take place during the race to the extent that it is needed.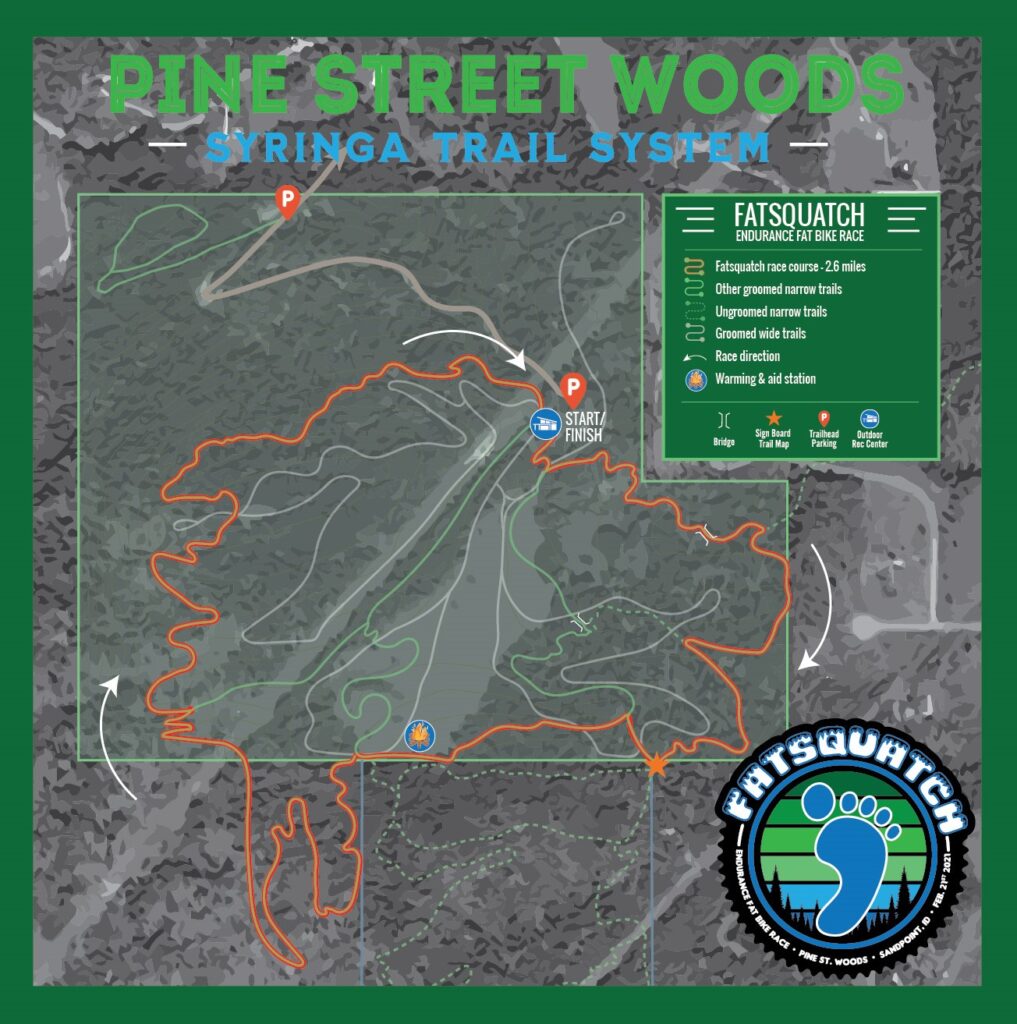 Support
Individual competitors and teams must be self-sufficient. The Outdoor Recreation Center will be available as an indoor warming station for competitors, but social distancing requirements will be enforced, meaning only a limited number of athletes will be allowed inside at any time with face masks required. Fires will be burning throughout the race at the start/finish area for warmth, and a food truck will be on site to cater the event. A warming and aid station will be positioned approximately halfway through the course for athletes who need it.
Competitors are welcome to bring their own fire pit, a pop-up tent, propane stove, or any other resources you think you might need to thrive outdoors during the six hour race!
Food and Drink
To keep competitors fueled for the race our friends at Mandala Pizza will be slinging their delicious brick oven pies throughout the race! Beer will be available for purchase throughout the race.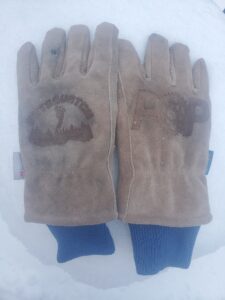 Schwag
Every competitor will receive a pair of custom, laser-etched suede, Wells Lamont Winter gloves! Please indicate your preferred size at registration; sizes are limited in quantity so we will do our best to match your preferred size!
Registration
Race registration will be capped at 50 teams and/or solo riders. Teams must arrive in a single vehicle, as there is limited parking available on site. The venue is open to the public seven days a week from 7 am to 7 pm.
Registration fees
$100 for solo riders
$180 for teams of two
All proceeds from race registration fees go towards supporting POP's winter grooming operations in Pine Street Woods and VTT and the expansion and ongoing maintenance of the Syringa Trail System, of which Pine Street Woods is a part.